NEWS
2018 – Past, ongoing and upcoming
Galleri Thomassen, Gothenburg.
Spring exhibition. on and on and on
MARCH 29 – APRIL 15, 2018
Opening Thursday, March 29, 2-5 PM (14-17)
(I am taking part with a photographic work from the series "Stories for an 87 year old lady")
I am Taking part of the exhibition "PUBLISHED Photo Books in Sweden",24/2– 6/5 2018. Hasselblad foundation, Gothenburg. I am exhibiting "Sunshine & Shadow" and "Stories for an 87 year old lady".http://www.hasselbladfoundation.org/wp/portfolio_page/published-photo-books-in-sweden/

Book releases/artist talks In Waiting for What is to Come, Helga Härenstam, Journal publisher:
24/3. Museum of work. Norrköping.
9/3 CFF – The Centre for Photography.
10/3 Fotoboksdagen. Stockholm.
6/4. Hasselblad center. Gothenburg.
.
Solo exhibition at Arbetets museum "In Waiting for What is to Come". Norrköping 24/2-13/5
https://www.arbetetsmuseum.se/utstallning/i-vantan-pa-vad-som-komma-skall/
 2017
May
Radio reportage (in swedish) about my upcoming project "In Waiting For What Is To Come"
http://sverigesradio.se/sida/artikel.aspx?programid=478&artikel=6705841
I recieved The Hasselblad Foundation Photo Book Grants 2017! for my upcoming book
"In Waiting For What Is To Come"
http://www.hasselbladfoundation.org/wp/sv/stipendier-2/fotoboksstipendier/
March

At The swedish photobook award 2017! Rival, Stockholm, Sunshine & Shadow is one of the nominated books
About Sunshine & Shadow, Värmlands folkblad. Click on image to read the article (in Swedish)
From my work Sunshine & Shadow
Attraction images: Contacting the audience through the visual arts (lecture series at Klagenfurt Univercity)
February
 I have been nominated for the swedish photobook award 2017!
http://sfoto.se/f/nyheter/svenska-fotobokspriset-2017-fem-nominerade-till-arets-fotobokspris
January
I have a new Studio at Sockebruket!
Jan 17
Review (link) omfotoboken.com "Sunshine & Shadow"

 2016
Review Fotografisk tidsskrift No 3-16,  "Sunshine & Shadow", Page 33.
https://issuu.com/fotografisktidskrift/docs/fotografisk_tidskrift_nr_3_2016
30th of November (Gothenburg)
Welcome to the release of my new version of  "Memories from a stranger",
BILAGA. Gothenburg art museum bookstore 30/11, 18-20

https://bilaga.wordpress.com/editions/
"Konstprojektet Minnen från en främling startade i samband med en text- och fotobaserad separatutställning som konstnären Helga Härenstam hade under sommaren 2013 på Kulturhuset i Stockholm. Som del av denna utställning fanns ett skrivbord där förbipasserande kunde välja att donera ett valfritt minne till ett framtida konstprojekt. Insamlingen fortsatte även under utställningar i Göteborg och Jönköping och resulterade i ett arkiv på ca 400 lappar. Ett material som visade sig bestå av en samling, mer eller mindre märkliga, historier och betraktelser från främmande människors liv. Historier om död, kärlek, Justin Bieber, revolt, drömmar, svek och marsvin…
För BILAGA presenterar nu HELGA ett urval av dessa minnen i brevform, välkommen att få ett unikt handskrivet minne från en främling!"

Fotobokens helg 26-27 /11 (Fotografiska, Stockholm)
Welcome to booksignings and presentations at Fotografiska. I am taking part and will be presenting my new book Sunshine & Shadow at 16.00 26th/November
31th of October (Stockholm, Sweden)
Welcome! Bookrelease and artist talks at Konst-ig, Åsögatan 124.
Two new releases by Sailor Press: "Sunshine & Shadow" (Helga Härenstam) and "Some kind of knowledge, Hyttödammen and Dissolve" (Maria hedlund). 17.30-19.00
16th of October. (Norrköping, Sweden)
Welcome!
12.00 Bookrelease Helga Härenstam, Sunshine & Shadow, Laxholmskällaren
Spegla photography days. Check out the full program: http://www.spegla.se/
15th of October. (Norrköping, Sweden)
Welcome!
Arbetets Museum's documentary photography prize 2016 – award ceremony and seminar. The documentary photography prize is for photographers who are innovative, socially engaged and inspiring. This year's four award winners are Christoffer Hjalmarsson, Linda Forsell, Helga Härenstam and Eva Dahlman.

15.15: Open artist talk, Helga Härenstam, Sunshine and Shadow
Check out the full program:
http://www.arbetetsmuseum.se/evenemanget/foto-i-fokus/
14th of October
(My work is exhibited at the Department of Psychology)
Welcome to an opening ceremony/Art walk
(University of Gothenburg Department of Psychology)
Friday the 14th there will be an opening ceremony where the Public Art Agency Sweden will present some of the works from the collection she has put together for the department. On the 5th floor at 15.00.
24th of September.

BOOKRELEASE! at fotobok GBG
Welcome to join us for bookrelease and presenataion at Fotobok Gbg !
The presentation (discussion in english with Helga Härenstam and Matilda Plöjel) will take place between 18-18.30.
31th of August

My book Sunshine & Shadow in the making….
Sailor press
20th of August

I did a Pecha Kucha talk about my work at Landskrona photography festival.
21:00–22:00 Pecha Kucha. Teaterbaren, Landskrona teater.
http://www.landskronafoto.org/festival-2016/
June
I recieved the documentaryphotoprice 2016 (Arbetets museum)
http://www.arbetetsmuseum.se/dokumentarfotopriset/pristagare-2016/
Juryns motivering:
"Helga Härenstam får 20 000 kronor för sitt sätt att balansera fakta och fiktion i det lilla och nära livet. I hennes projekt – ofta en kombination av text och bild – ställs det till synes banala vardagslivet i förgrunden och tillerkänns en mening. Med ett öga för detaljer, ofta med en humoristisk glimt och äldre damer i centrum, låter hon modigt den dokumentära bilden ge näring till det mer fantastiska och fantasieggande."
May
A picture from my art project in Zimbabwe 24/3- 1/4  2016 (work in progress)
I am improving Cecil Rhodes grave monument
24 March 2016
I recieved Gothenburg City Cultural Scholarship
Juryns motivering:
"Helga Härenstam använder händelser ur sitt vardagslivsom utgångspunkt för sina konstnärliga gestaltningar. Det finns en stark närvaro och en förmåga att se de små, men viktiga, detaljerna som andra lätt rusar förbi. I projektet Minnen från en främling står en jukebox i centrum som istället för sånger spelar upp minnen. Minnena i jukeboxen har anonymt donerats av Helga Härenstam under en utställning på Kulturhuset i Stockholm, och sedan spelats in för att läsas upp när du gör ditt val. Vi hyllar Helga Härenstam för hennes nyfikenhet att ta sig an sin egen och andras historier med ett starkt och personligt konstnärskap."
13 February–10 April 2016
The Gothenburg Museum of Art
My work "The Looking Glass Photos" is part of this exhibition:
Deed- Photography from the Collection of the Gothenburg Museum of Art
From military landscapes and literally climbing over the facade of the museum to abstract sweeps of colour and photographical research projects about queer activism in Russia. During the/this spring, for the first time, a major exhibition of contemporary photography from the collection of Gothenburg Museum of Art will be shown. Around 20 artists and photographers will take part, most of them having an emphasis on activity, participation and action. The photographic image has often depicted change and current events. It is a result of a conscious action that is intertwined with identity, politics, community and commitment. Perhaps one can go so far as to say that photography has contributed in shaping developments in awareness as well as politics.
2016/01

 I was interviewed  about my work "The Looking Glass Photos" by Sookyoung Huh in the first issue of VERK tidskrift.
http://www.verktidskrift.se/thelookingglassphotos
23/1 (15-17 pm)
"En bok om en bild"  Book release/presentation at Konst-ig (art bookseller)
I read twelve memories from strangers as part of the 13 FESTIVAL 2016 at Konstepidemin, Gothenburg.(Seminars, Performance art, Workshops)
http://konstepidemin.se/kalender/13-festivalen/
 2015
15/12-15
Our bookproject "En bok om en bild" (editors me and Olle Essvik) got a beautiful review in the magazine Konstvärlden (number 6, 2015)
Click to enlarge.
12/12-15
Two of by bookprojects "(A demonstration of the sign of the horns and Stories for an 87 year old lady) was exhibited at the Artist book fair "Found in Labyrinth/Найдено в Лабиринте" i St Petersburg, Russia, arranged by the artist collective Found in Labyrinth/Curated by Maria Kotlyachkova.
(through Bilaga https://bilaga.wordpress.com/)
Click to enlarge.
1/12 -15

I was interviewed  by Mabel
MABEL is a platform (Blog in Swedish) where five photographers runs various projects.
26/10-15
I was interviewed by Richard Dinter (about experiences of images/art) in this culture reportage    P1, radio. (in Swedish)
http://sverigesradio.se/sida/avsnitt/624288?programid=4752
24-27/9-15

Exhibition at The 2015 Göteborg book fair, by the debate scene (Fotobok Gbg 15)
I am exhibiting part of my work "Valentines day & other scenes", Welcome!
ARTIST TALK & BOOK RELEASE 26/9-15
I have an artist talk the 26th/9 ,  13.00 at http://www.fotobokgbg.se/ in Gothenburg.
Same date at 16.00 I am presenting a new bookproject that I´ve been working on in cooperation with Olle Essvik, Rojal publisher, Fotobok Gbg 2015, and a lot of great photographers, artists, writers and poets that we invited to write or photograph something in relation to a photograph of our choice:
Contributors:
Catharina Gotby, Anna Lamberg, Erik Östensson, Johan Bergström, Klara Källström & Thobias Fäldt, Lovisa Ringborg, Simon Berg, Inka & Niclas Lindergård, Trinidad Carrillo, Ohlsson & Dit-Cilinn, Lotta Törnroth, Tuija Lindström, Lisa Grip, Frida Franker, Rikard Laving, Anna Strand, Robert Eklund, Emma Fredriksson, Lina Haskel, Andreas Gedin, Stefan Ohlsson, Daniel Boyacioglu, Kennet Klemets, Gert Z Nordström, Leif Holmstrand, Mathias Jansson, Jenny Morelli, Tina Carlsson, Lina Hagelbäck, Sara Arvidsson, Thomas Dahl, Rebecca Nordström Graf, Nora Bencivenni, Frida Sandström, Cecilia Grönberg,
More info in swedish and link to open event:
https://www.facebook.com/events/1193266197366432/
work in progress at Rojal bookbinder/publisher:
The book! email post@rojal.se   if you want to buy one of the 160 handmade copies.
11/9-15
22/6-15
Today I recieved a grant from Helge Ax:son Johnsons foundation, to work with an art project in Zimbabwe! More news about that soon. Thanks Helge!
27/5-15
I made the cover of this book (Photography)  Virtuella utopier (Virtual Utopias) by Olle Essvik / Joel Nordqvist
for more info (in Swedish) : http://www.rojal.se/
7/4-15
My soloexhibition at galleri 54 (Gothenburg) got a review at konsten.net ( http://konsten.net/helga-harenstam-pa-galleri-54/)
Helga Härenstam på Galleri 54
För ett par år sedan visades Helga Härenstams Berättelser för en 87 år gammal dam på Kulturhuset i Stockholm. Utställningen och boken, den senare med samma titel, utgick från en spåkvinnas påståenden om konstnärens kommande död. Härenstam förutspåddes bli 87 år gammal. Som svar satte hon samman ett arkiv med texter och fotografier från livet för hennes framtida, äldre, minnesförsvagade jag. I utställningen ingick också ett inkast där besökarna kunde lämna sina egna, personliga minnesnoteringar av valfritt slag.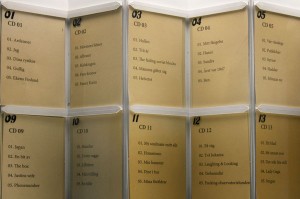 Ett tag satt Helga Härenstam med denna omfattande samling papper med nedklottrade bekännelser på cirka 200 sidor, utan att veta vad de egentligen skulle kunna användas till. I utställningen Minnen från en främling, som först visades på Jönköpings läns museum för att nu ställas ut på Galleri 54 i Göteborg, vecklas noteringarna ut i en form som passar dem förträffligt. En CD-jukebox från 80-talet spelar upp hågkomsterna i spår och det är galleribesökarna som bestämmer ordningen. Röster möts – ljusa, nonchalanta, engelskspråkiga, mörka, glada, nedstämda. Stämmorna tillhör skådespelare och andra och har spelats in i efterhand – vilket stundom adderar en komisk och disparat känsla till materialet. En kvinna pratar om andra tjejers rumpor vilka hon verkar gilla, ett barn tillkännager en hamsters död, någon har velat gifta sig med Justin Bieber, det pratas om äckligt gin och en man har träffat en "naked lady" förpackad i transparent plastfolie. Ja, en del av minnena ter sig något konstruerade men det blir till en poäng i sig. För hur trist vore inte livet – kanske rent av outhärdligt – om man inte kunde piffa till det med överdrifter och en gnutta rock'n'roll-glamour i efterhand. Interaktiviteten som uppmuntras vid jukeboxen – du bestämmer din egen mix – resulterar i icke-linjära stråk som har en slående motsvarighet i hur minneshanteringens irrbana fungerar då den aldrig verkar ta hänsyn till kronologisk logik.
Ovanför jukeboxen hänger en sirlig neonslinga vars bokstäver formar utställningens titel. I en annan del av rummet står ett skrivbord med skivan täckt av pennor och papper. Här finns även ett litet brevinkast. Minnesinsamlingen fortsätter…
I och med Minnen från en främling rör sig Helga Härenstam bort från det fotografiska fack hon vanligtvis placeras i. Men klivet är inte så långt som man först kan tro. Härenstam har ju en tid sysselsatt sig med att undersöka vägarna mellan komponenterna; en bildlek och ett brobryggande som kan liknas vid ett språk. Med denna utställning finslipas det relationella draget – och det på ett smart och solklart sätt. Samtidigt kan installationen ses som en reflektion över det samtida bruset, över kakofonin av reminiscenser. I detta fall når det oss dock via en högst nostalgisk apparat.
Missa inte konstnärssamtalet mellan Helga Härenstam och John Huntington på Galleri 54, fredagen den 10:e april, kl 18!
Adress: Kastellgatan 7, Göteborg 
Utställningen pågår under perioden 27/3 – 19/4
Sara Arvidsson (text), Helga Härenstam (foto)
Friday 10/3 -15
18.00-21.00
Artist talk, discussion between me and John Huntington at Galleri 54.
Friday 27/3-15
The opening of my soloexhibition "Memories from a Stranger/ Minnen från en främling"
at galleri 54  (the exhibition is shown until 19/4)
http://galleri54.com/utstallningar/minnen-fr%C3%A5n-en-fr%C3%A4mling
Preparing the jukebox…
Saturday 31/1-15
The opening of my soloexhibition "Memories from a Stranger/ Minnen från en främling"
at Jönköping läns museum  (the exhibition is shown until the 22nd of March)
http://www.jkpglm.se/Utstallningar/Tidigare-utstallningar/Minnen-fran-en-framling/
Artist talk at the opening Jönköpings läns museum 31/1.
Review Jönköpingsposten, Click to enlarge (in Swedish) :
Review Aktuella nyheter (in Swedish):
http://www.aktuellanyheteriveckan.se/kultur–noumlje/lyssna-pa-minnen-via-en-jukebox-pa-jonkopings-lans-museum
2014
Thursday 11th of Dec 2014: "Valentine's Day and other scenes"
(Gunnel & Ruth – two of the participants/exhibitors)
Opening: 16-19 Vegahusen, Vegagatan 55. (The exhibition will be open until the 9th of january, weekdays between 9-17.)
Welcome to the opening of the art project "Valentine's Day and other scenes",  a collaboration between me and the retired folks living at Vegahusen- Three Foundations (on Vegagatan 55- Gothenburg)
The exhibition consists of documentation from an art project which was a collaboration with Vega Houses retirement home. The project had the form of a study cirkle in photography that took place during six Wednesday afternoons in spring 2014. The photographs shown are a mix between my own photos of the place and photos that the participants have taken, or brought, to some of the occasions we met. Thanks to the Center for Photography for cooperation in the form of loans of cameras to the participants.
I have also made a book of the project which will be available as a display copy in the exhibition. It consists of a larger selection of photographs and texts. The texts in the book are transcriptions from the recordings I did during some of our meetings. The book will be published during 2015.
10/10 2014
I am taking part of  "konstkarusellen" at galleri 54
http://www.galleri54.com/utstallningar/konstkarusellen
22/10 2014, Artist talk at Valand, Gothenburg
2/10 2014, Artist tak at Yrkeshögskolan, Gothenburg
22/8 2014, Artist talk at Kulturama, Stockholm
May 2014
I was asked to present 5 photobooks that I like at:
http://thephotographicarchive.com/
(Click to enlarge)
Atalante, 28th of February-17 of March 2014
I am exhibiting part of a new work (a photographic triptych and notes)  at Atalante in Gotheburg/ in cooperation with Golddigger Productions.  Link to event:
https://www.facebook.com/events/283559215126872/?previousaction=join&source=1
 2013
The Swedish Arts Grants Committee gave me a 2 years working grant!
14th of Nov 2013.
I am presenting my work "Stories for an 87 year old lady" at Galleri Kontrast (Stockholm). "Platta skatan" arranges photographic seminars on different themes. I was invited to take part of "Photography/Timetravel" together with Maud Nycander, Petter Dahlström and Bonn-Karl. Welcome!
My series "A demonstration of the sign of the horns" is on the cover and part of the September 2013 issue of Konstperspektiv- Photography in focus.
http://konstperspektiv.nu/nytt-nummer-om-foto-den-2-september/
The same series is also presented as a multiple (in a limited edition of 13) and sold through:
http://www.welovethisproduct.com/designer/Helga_Harenstam/A_demonstration_of_the_sign_of_the_horns_.jsp
Anna Schober is writing about my series The Looking Glass Photos in her new book "The cinema makers". Click on the image to enlarge it.
17 April-4 Aug
I am exhibiting "Stories for an 87 year old lady" at Kulturhuset in Stockholm
During the exhibition I am collecting memories from people. Please come and donate a memory of your choice to the collection. It will be used in my next art project.
Interview in swedish about the exhibition/book:
http://vimeo.com/69748810
Blog reviews about the book and exhibition:

http://kulturhusetbesokarna.wordpress.com/tag/helga-harenstam/
http://dagensbok.com/2013/04/11/helga-harenstam-berattelser-for-en-87-ar-gammal-dam/
In May 2013 I received a grant from the SWEDISH AUTHORS' FUND!

20 April-9 June
I have a solo exhibition at the Ebeling Museum in Eskilstuna
Review in Eskilstunakuriren (in Swedish):
Click to enlarge
12 April 2013
I was invited by SFF (The Association of Swedish Professional Photographers)to present my work as part of "Pecha mucho" http://lupp.se/2013/04/03/pecha-mucho/in Gothenburg at Lupp studio. WELCOME!

28 March-27 April
I am taking part in Påsksalongen at Gallery Thomassen in Gothenburg
Opening Thursday 28 March at 12-23
23 March – 12 May
I am participating in the exhibition Dreamscape at Bohuslän Museum
Opening on 23 March at 14:00 The exhibition is presented by the gallery's curator Agnes von Zelpel
Participating artists:
Ann Eringstam
Kerstin Hamilton
Hendrik Zeitler
Helga Härenstam
Link to a radio broadcast about the exhibition p1:
http://sverigesradio.se/sida/artikel.aspx?programid=478&artikel=5482330
Review of "Stories for a 87 year old lady" in the magazine FOTO No. 3-2013
Click on the image to enlarge it.
Stills from the interview about "Stories for an 87 year old lady" the culture News SVT 1.
17 January 2013.
Review of "Stories for a 87 year old lady" in Kulturnytt P1
Publicerat: onsdag 05 december kl 11:25 , av: Yvonne Ihmels
"Berättelser för en 87 år gammal dam", heter en ny fotobok av den göteborgsbaserade konstnären Helga Härenstam, född 1980. För några år sedan jobbade hon som popcornsförsäljare på en festival och där bredvid fanns en spågumma. Mot lite popcorn bytte Helga Härenstam till sig en spådom och fick veta att hon skulle bli 87 år gammal, arbeta som fotograf men bli glömsk mot slutet av sitt liv.
Den här boken är en samling minnen till henne själv – om hon skulle bli en 87 år gammal dam utan minne.
Bygger på Helga Härenstams egna dagboksanteckningar från det hon var åtta år gammal. http://sverigesradio.se/sida/artikel.aspx?programid=478&artikel=5369920
Redan upplägget får en att dra på munnen. En minnesbok för den glömska 87-åriga dam som Helga Härenstam förutspås bli. Men vad är ett fotografi annat än just ett minne? Frusen tid fixerad till en bild.
"Berättelser för en 87 år gammal dam" bygger på Helga Härenstams egna dagboksanteckningar från det hon var åtta år gammal i slutet på 1980-talet och just lärt sig att skriva, till förra året, 2011. Bilderna däremot är relativt nytagna, mellan åren 2009 – 2011.
Här finns alla möjliga minnen, stort som smått. Minnen från resor, sånt som berättas i släkten, och inte minst minnen av drömmar.
Det lekfulla får lov att ta plats. Det som vuxna kallar skräp sparar barnet som gyllene skatter förvissad om dess framtida betydelse. Konkreta dagboksanteckningar av en smått snusförnuftig flicka blandas med den äldre flickans komplexa världsbild, men på ett slumpmässigt vis, just så som minnet fungerar.
Sidor ur en bok ligger utspridda över hela vägen, som små poetiska hållpunkter i samhället. I diket vid korvkiosken hittas det visdomsord eller noteringar, som på parkeringen utanför Pekås. Tänk att vandra stigen fram och framför sig på marken hitta orden till sin bok som redan färdiga sidor, tänker man.
Det är lite nordiskt vemod, värmländska skrönor och ödslig huvudled, rakt genom ett samhälle som sakta men säkert avbefolkas. Kommer Helga Härenstam att bo i Ekshärad i Värmland, som är en av hållpunkterna vid sidan om Finland, Odessa och Göteborg, när hon blir en 87-årig dam, tänker man också.
Bilderna, för att komma till dem, är vid första anblicken rätt vanliga. Av just den typen som förekommer i ett fotoalbum och där det på baksidan står – minne från – vad det nu var som man gjorde eller var det nu var som man befann sig. Men ju mer jag bläddrar i boken, inser jag hur tidstroget de förhåller sig till dagbokens tidsangivelser och att de befinner sig just i en annan tid – i minnet.
Helga Härenstam har mer eller mindre konsekvent arbetat foto-och textbaserat alltsedan examen vid Högskolan för Film och Fotografi 2008. Det självbiografiska och dess historieberättande aspekter med en balansgång mellan fakta och fiktion är återkommande inslag. Alldeles ofrivilligt kommer jag att tänka på den feministiska konstnären Mar
Kelly som på 1970-talet ställde ut sin sons tygblöjor på finkulturens högborg Victoria and Albert Museum i London. Kritiken protesterade – kan det här kallas konst! Mary Kelly blev inte svaret skyldig: Det är konst därför att jag säger så! Ungefär i den andan befinner sig också Helga Härenstam.
 2012
24/9
I was doing a Tv interview about the book "Stories for an 87 year old lady",  together with Photographer Lina Haskel.  UR/Kunskapskanalen during Göteborg book fair 2012.
Review of "Stories for a 87 year old lady" in Fotografisk tidskift # 6 -2012
Click on the image to enlarge it.